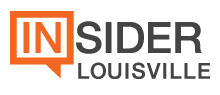 Pho Ba Luu picked a great week to open. The weather is temperate, and people can feel the full effect of the restaurant as wind and people flow in and out of its opened garage doors.
The new restaurant is a Vietnamese concept, with classic dishes such as pho, banh mi sandwiches, spring rolls and crispy rolls. Prices range from $5 to $12.
The response has been overwhelming, said Stewart Davis, a partner in the restaurant with Jessica Mach. One diner has come in every day since they opened while several others are eating their way through the menu. A favorite out of the gate was their beef pho.
Although its first day of business is Tuesday, Pho Ba Luu opened up to friends, family and neighbors Monday evening, and Insider Louisville got an exclusive peek at the restaurant, which is the brainchild of managing partner Jessica Mach, her fiance, Stewart Davis, and Mimi Ha, managing partner of August Moon Chinese Bistro.
"We achieved what we wanted to achieve," Davis said, looking around the restaurant. "We wanted to respect what the building was."
But the broth is critical. "You have to give it the proper amount of time and to do that you have to have the proper setup. I knew [this restaurant] was real was when I bought a 60-pound kettle."
Before sitting vacant, the building was a car garage. The partners decided to keep the concrete brick facade, which naturally gives the building an industrial feel and keeps the essence of the building, but they've lightened it up by replacing the old garage doors, windows and front door, and completely redoing much of the interior.
The idea was to make everything as efficient as possible — the restaurant is only 2,300 square feet — and create a welcoming, relaxed atmosphere.
The concrete walls can still be seen inside, but in some places, they painted blocks or covered them with a rectangular white tile. Davis said that is to give the building a clean look and feel so people aren't leery of ordering food there. All the chairs and tables were made specifically for Pho Ba Luu by Four Stone Custom Mill and Casework and feature welded metal and wood tops. The kitchen is open; customers can order food at the counter and watch it be assembled.
Mach and Davis spent years developing the brand. They picked out the bowls they wanted two years ago and at one point had 60 bowls in their living room trying to find the right one, Davis said. They settled on a large bamboo bowl that helps the pho stay warm.
"We knew we were going to do it. Whenever we had time to make a choice on something we did it," he said.
Mach spent those years refining her recipes for the menu because she wanted to be true to Vietnamese food but be respectful to American food sensibilities. That's why you won't see tendons or more exotic animal parts on the menu.
"It's affordable and good food," Mach said. "I want to create something really comfortable."
Pho Ba Luu makes its own bread for banh mi sandwiches and its own broth. The broth for the chicken and beef pho are each cooked for more than 12 hours, with about 67 pounds of meat and bones per 40 gallons of water.
For Andy Blieden, the developer behind the ButcherBlock development, the opening of Pho Ba Luu is his part vision becoming a reality. The restaurant is expected to draw people to the neighborhood, where they will hopefully visit the other businesses open in Butcherblock and Butchertown Market, which Blieden also owns.
"It's a dream come true," he said. "It surpassed what I thought."